Wow it's the 1st of June, where have those six months gone? 
I can't believe I haven't written since December, sorry but I'm here now and hope to update you monthly with what's happening on the farm.
Thank you all for visiting us during the lavender season 2021-22. We had our biggest year ever for visitors and we are so thankful for your visits. We met some lovely people, many new visitors and our regulars that have been visiting us for years. This year is going so fast, it will be the lavender season again before we know it.
After the busy lavender season subsides every March/April, we hibernate, for rest and recuperation. It's a quieter time when the urgency ceases and we can catch up with the rest of the property chores.
We can also, sometimes take a break, we had a couple of weekends away relaxing, reading books and just being together. The special times when everything stops, we walk the beach, watch the surf splash against the sand, hear and see the birds going about their business – digging for food, fighting for the fish they all want. 
At home we watch the cute swallows on the power lines cuddling up together.  The swallows are one of my favourite birds and they do great work eating insects that hang around the house.
Don't you just love birdlife? When I watch the birds it takes me to a relaxation state, a type of meditation where all my worries disappear. I love going to Zealandia, photographing birds but also just watching them and hearing them sing to their mates, echoing throughout the bush. If you haven't been to Zealandia in Wellington, you must go, take time out, relax, watch and listen to the birds.
What's happening on the farm?
Stu has pruned the main two crops but the smaller lavenders need more of a special prune to get their shape right going forward. We'll get into that job soon enough.
Autumn was very mild and we had many beautiful calm days. The frosts have arrived but it doesn't worry the lavender at this stage of its dormancy.
Winter starts today and along with Winter come lambies!!! We expect to be lambing mid-July. It's always a lovely time when wee lambs are popping out all over the show and we always wish for healthy lambs and well birthing mothers.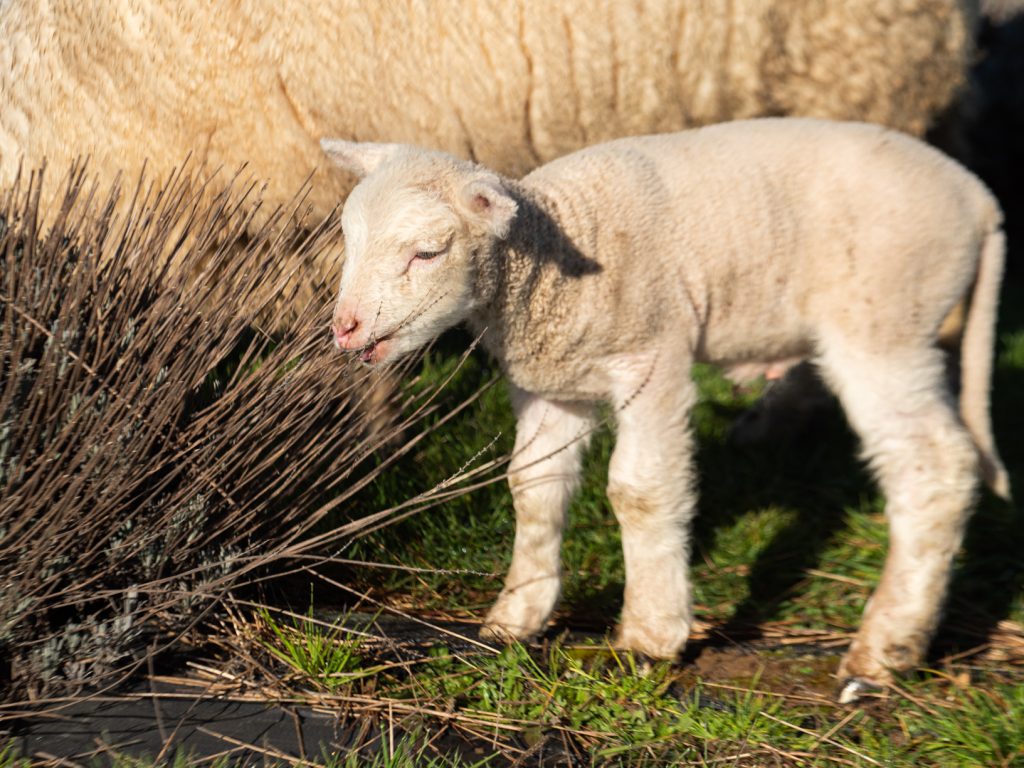 We have many jobs to do this Winter. We need to replace some of our fencing. One area is in the lavender, replace our rickety fence with a nice wooden fence. This fence will need painting – I wonder what colour???
We need to replace some paddock fencing to stop the silly sheep sticking their heads through our 'one' netting fence. I shake my head; they know how to get their heads through the fence but can they figure out how to get it out, nope.
All the orchard fruit has been picked, eaten, stored, dehydrated or cooked. Figs are still hanging on but it's coming to the end of that crop too. We had no feijoas this season for some strange reason, it was a shame for me but not for Stu, he can't stand them.
Chooks have stopped laying, it's too cold they say! Grrr just when you want eggs they don't give you any.
Back in November we talked about a shop on the property. Well the good news is, IT'S HERE!  We have a few bits and pieces to sort out but we are looking towards a Spring opening.  It's looking really good and we're excited to have it available to you so you can visit us and peruse our products in style. We will be open certain times and days of the year so keep an eye on the FB page and you will hear what's going on in that department.  We can't wait to see our lavender lover visitors in the new shop.
That is all that's happening at Lavender Abbey currently so we wish you a warm, cosy, happy June and we'll see you in July with an update on 'what's happening on the farm'.
Till then, take care y'all.
Jan & Stu